Overview
2022 Summer Season June 1 - August 13 (closed Sundays)
Located near Fruitland, Utah
Get Directions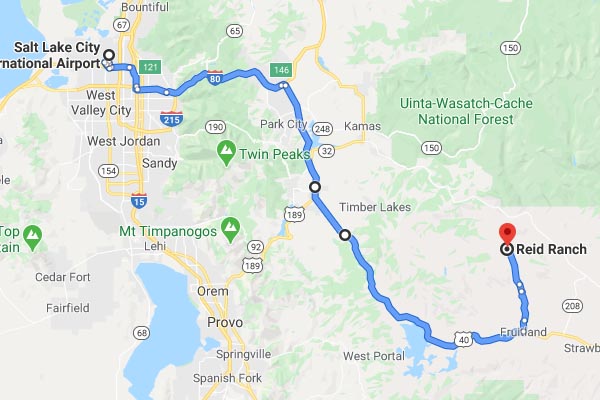 Tucked away high on the slopes of the Uinta Mountains on the Red Creek River, (near Fruitland, UT), Reid Ranch is secluded in one of the most magnificent scenic and wildlife regions around. Guests may enjoy the wonder of alpine meadows strewn with wild flowers and the breathtaking mountain views.
The moose, elk, deer, occasional mountain lion and bear that may be seen are but a part of the variety of wildlife that make this region their home. Bald and golden eagles soar overhead while ducks and blue herons are viewed as you hike or leisurely rest on our lodges' sun decks.
Reid Ranch is situated at 7800 feet above sea level. This gives one a feeling of freedom to roam and relax under a warm mountain sun and cool mountain breezes. Enjoy the outdoors and the many activities available at the Ranch: horseback riding, swimming, fishing, hiking, boating, archery, playing sports, or relaxing in the hot tub or a sauna – to name a few.
Reid Ranch is located near many other popular destinations:
83 miles to Dinosaur National Monument
100 miles to Salt Lake City, UT
195 miles to Arches National Park
300 miles to Bryce Canyon
Reid Ranch is An Adventure to Experience.
History
Reid Ranch was purchased in 1978 by Mervin and Ethna Reid. They had been looking for a getaway for many years. After being told about the property by a friend, they took a leisurely drive to see the location. Upon arriving, they fell in love with the location, its beauty, and the abundant wild life. They could visualize immediately "Reid Ranch." What they found was a very primitive location with one small building that was partially built. They decided to remodel the existing building with the help of Mervin's architectural design. In addition, they hoped to use it as a site for seminars of the Exemplary Center for Reading Instruction (ECRI); a program, founded by Ethna and Mervin, to instruct teachers how to teach so no student fails to learn.
Before beginning to build, however, they knew they first had to find culinary water. They had a hard time digging wells and bringing water to the lodges but it was finally accomplished in 1982 with a 520 ft deep well and a 25,000 gallon glass-lined steel storage tank which was brought in at great risk and buried in the mountainside. Building has definitely never been easy at Reid Ranch but soon the lodge was built after having it collapse in the early stages because of a harsh winter. More roads were also grated and grass was planted. The Ranch was on its way to becoming what it is today.
In 1985, Ethna was able to begin her seminars at the Ranch. One gentleman from South Dakota, who was a participant in the seminar, loved the atmosphere of the Ranch so much he wrote: "It is one of the seven wonders of the world."
Because of the enthusiasm of the participants at the ECRI seminars, the Reids opened the Ranch to church groups, family reunions, government and company groups. The response has been gratifying. The Ranch books groups up to a year in advance because of its popularity. Sitting at 7800 ft elevation in the Uinta Mountains, Reid Ranch is truly God 's country. You can still experience seeing deer, moose, elk, bear, beaver, porcupine, mountain lion, and even skunks. The Reid Ranch will continue to be a pristine Western location to enjoy now and in the future. The Reids love the area, and they hope those who stay can sense the beauty as they see it.
Story Behind the ME Brand
Mervin and Ethna Reid purchased half a dozen cows when they first acquired the Ranch. They needed to create a brand to put on their cattle so they decided to use "ME" after the first letters in their names. They also added a curved line to the top and called it the Swingin' ME brand. It has been a well-used logo for the Ranch ever since.