Paul Peterson
"I wanted to let you know how much we enjoyed our stay at Reid Ranch. Most of the family members are still talking about how much fun they had. We hold our reunion every two years and are seriously thinking about holding the next reunion at Reid Ranch again."

Craig
"Your facility is amazing and your staff is even better. Our group had a great time, thank you. If I may, please let me share with you about your staff. We first met Kyle at the gate and he continued to serve us throughout our stay. He is so friendly and personable, a great asset to the Ranch. We also interacted with Spencer and his wife (sorry her name slips me right now). They helped our group at the lake and what an incredible couple, they truly made our visit over the top. The food service gentlemen we extremely friendly and kind, it was joy to come to meals and see their happy faces and be greeted warmly. Lastly, please let me recognize the wranglers at the horse barn. All 4 do a fantastic job but Mike is a stand out. Our group went on a few horse back rides except we had one young lady who is a bit autistic that was a little scared. Mike stayed behind and helped her get on the horse and then took the next 20 minutes leading her around the saddle paddock and talking to her so she felt comfortable. I stood there and watched in amazement at the talent Mike has with kids and the service he offered this young lady in our group. This will be a memory that she will never forget along with many others from our group. Hats off to your staff, a tremendous group of people!!!!"

Maeser Stake YW Camp
"Staff at Reid Ranch – Please share with your staff, cooks, wranglers, office personnel, etc. our sincere 'Thank Yous' for making our 2018 stake girls camp a success!! We all loved it – girls and leaders alike! You Rock!!"

Diana Applegate
"I just wanted to Thank you and your staff for the awesome experience we had at your ranch! It was beautiful and so much fun for our young women and leaders. You really know how to help youth group have a successful camp.
"Thanks for taking such good care of our priesthood brethren as well. Their accommodations were just right and they had a wonderful experience as well.
"I will absolutely recommend your ranch to others look for an outstanding place to have a camp or reunion."

LeeAnn Loader
"We (my girls) LOVED the staff at horseback riding. Michael, Jared, Braydon, and John all were fantastic. The girls LOVED their time up there. Haley and Bryce were amazing to work with. I can't say enough things about how good it was."

Debbie Olsen
"We brought our family up to Reid Ranch June 8-10 and stayed at Red Creek Lodge. We were so impressed with every aspect — with the staff, the cooks, the wranglers. Every single thing exceeded our expectations.
"The staff, from Haley down, was so friendly and eager to help. Every single meal was delicious. Our compliments to the chef. He even made special pancakes for our kids one morning. The wranglers were great with our family. Michael took the little ones on the pony and made it so fun for them.
"The whole family, from the youngest to the oldest, had a great time with many expressing it was the best vacation ever.
"We will be spreading the word about what a great place it is to have a family vacation."

Leslie
"I wanted to say thanks for our amazing experience at the ranch this past weekend. It was so much fun and a great atmosphere to be in for our youth. All the staff there were very on top of things and very friendly. We loved interacting with them throughout our experience. It was a stress free youth conference and we appreciate the opportunity to be there."

Lynnette Butler
"The facilities are great, but the staff is amazing! Each one was courteous, friendly, and anxious to help. I was very impressed! We had a large family reunion to celebrate my dad's 90th birthday. The staff was very solicitous of him – very willing to drive him in a cart to take the horses so he could enjoy the grandchildren on the horses and ponies and then returned promptly at the appointed time to drive him back to the lodge. We did not expect such personal service."

Phyllis Williamson, Springbrook Ward
"I felt rich being here! I love you all! So kind and friendly! Thank you! We are a better people from you all. You all were great! When I got afraid of the horses the staff was so great to get me back on to love the ride! Great horse people and staff. All looking great also!"

Kelly Clark
"The beauty, atmosphere, and friendliness of the staff at Reid Ranch helped to make this one of the best memories of our life! Thanks for making this experience a once in a lifetime one!"

Tami Lund
"This was the only way to go for a family reunion! Everything covered allowing for family time. Totally awesome."

Robert Merkley, Salt Lake Olympus Stake
"I wanted to take a minute and express to you and your staff our appreciation and gratitude for assisting us to provide an outdoor experience for the youth of the Salt Lake Olympus Stake. Our hopes for a well run camp that would provide fun activities and help facilitate what we desired for our youth were exceeded in every way.
"First, thank you for enduring our endless questions. Your responses and direction helped us in our planning for our youth conference.
"The camp directors, Spencer and Haley, simply put were the best! They were very patient with us but at the same time, they gave us the latitude to adjust as we needed. I really can't express adequate gratitude for these two fine individuals. They were very helpful, kind, respectful, available and responsive to our group needs and wishes. Their professionalism also was reflected by every staff member. I'm unaware of any situation where, when we asked for help, a staff member wasn't there to help out or take care of our concern or request. To each member of the staff – thank you!
"To Tony and his kitchen crew, the food was very good and well prepared. I personally thought that the quality of the food would equate out to cafeteria standards. We were pleasantly surprised to see the variety of food prepared for each meal as well as the presentation and quality. If anyone went home hungry from our youth conference, it was by their own choosing. There's no doubt that the soft serve ice cream machines were a hit with our youth. Thank you Tony and your staff for providing great food!
"To Dan and his wrangler crew – thank you for providing a horse riding experience that we won't forget. For many of our youth, this was there first time being on a horse and all who participated absolutely love it.
"We realize that it takes a lot of effort by many, many people to make any youth activity successful. We're so grateful to each person associated with Reid Ranch in helping us to make our 2016 youth conference – "Gaze Upward, Look Inward, Reach Outward and Press Forward" a huge success!"

John and Lisa Richardson
"We could not have picked a better location for our first ever reunion. Our family connected in a special way that we haven't before. The kids (and adults) had a ball, the food was delicious, and the staff and accommodations were warm and comfortable."

Lani Nelson of CC 3rd Ward Young Women
"The staff was seriously amazing! There was not one person there who was not so friendly and helpful! Excellent in every way! We have high praises for everyone!!!!"

Katie Wright
"It's a beautiful corner of Utah with really fun activities to keep everyone busy. Our entire group loved all recreation, beauty, food and the very friendly and helpful staff."

Stephanie Getter
"All staff was so attentive and fun and kind. Spencer only met me once, yet remembered my name and called me by it each time he saw me. The staff made us feel like we were truly pampered!"

Jenifer Stephens
"Your staff gave the Reid Ranch version of a Disney vacation!"

Mt. Nebo Ward Young Women
"Our group had MANY fantastic experiences with all the staff members. The cook brought a birthday cake out after hearing us sing to one of our girls. The wranglers were fantastic and helped take special care of those in our group that were nervous or afraid. YOU GUYS ARE WONDERFUL!"

Bonnie Beckstead
"Each staff member was helpful and kind. We appreciated the respect that came form each of them. We felt like family. This has been and amazing experience. We loved it and we love Reid Ranch. You guys ROCK!!"

Shelly Burningham
"Please express our sincere appreciation to all the staff for making our stay such a great adventure. Everyone went to extra mile to assist our every need. The food was excellent and I so appreciate the extra service to provide gluten free meals. The wranglers were so fun so patient and kind. The other staff waited on our every need. They always were happy and made us feel welcome and loved. I would highly recommend Reid Ranch to anyone."

Denise Angus
"I was so impressed the teaching quality at the horses was awesome. Food was amazing. Activities were so fun!! The cabin and scenery are stunning and so peaceful and beautiful. Help with the fire was so fun. Loved being able to have our testimony meeting till 11:00 in such a beautiful place."

Belinda Haderlie
"Loved everything! 5 stars on food and service! Loved the authentic cowboy experience on the horses! Thanks for everything!!!"

Brighton Stake
"Hi, Our Stake had a wonderful Youth Conference at your ranch. The facilities were awesome & the staff was great to work with. It will be hard to go to another facility in the future & we will surely come again. The price is exceptional & comparable to other facilities that offer fewer activities for youth. I compliment you on creating a great ranch."

Arryn Patten of Spring Creek 15th Ward
"The staff was so impressive!! Everyone was so accommodating, friendly, and quick to help. The wranglers at the corral were amazing with our girls. We have loved every minute of our stay! Thank you so much."

Springs Creek 15th Ward Young Women
Reid Ranch received the following fun Thank You card: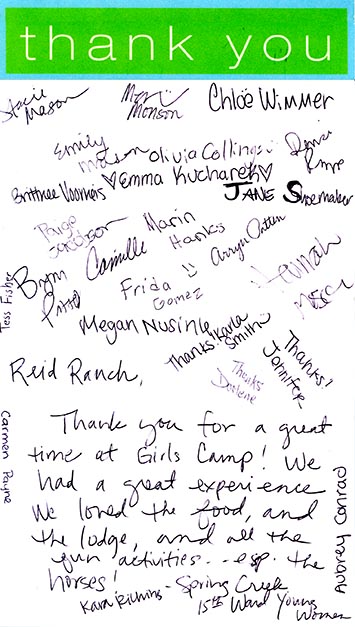 Kara Paul
"Thank you so much Haley! We had such a fantastic time at the ranch. I was talking to the other Young Women leaders today and we all agreed that this girls camp topped all the rest. Much of that was due to you and your staff. Thank you for being so kind, attentive, and patient with all of us. I can't say enough about our experience and your staff. Everyone we met was so polite and willing to help. As one of our leaders said, "We felt like everywhere we went we got the Disneyland treatment. 'Service with a smile'." Thank you for all you did to make this camp such a memorable experience for everyone."

Cindy Dial of South Jordan Highland Stake
"Thank you so much for a wonderful girls camp experience. We have heard nothing but good reports from the young women and leaders in our stake. We appreciate your efforts to ensure that we had the best experience. Your staff was very friendly and helpful, and everything was so well taken care of and clean. Thank you for allowing us the opportunity to visit your ranch."

The Moncriefs
"We all just wanted to send one last little note saying, 'Thank you!' We're still talking about the fun we had and we've shared our comments and pictures with many friends. Even this week, several of our grandchildren continue to ask if we can go back later this summer. That's a real compliment to Reid Ranch! Our hope is that we will be returning in the future. We also hope that the entire Reid Ranch staff will appreciate their experiences this summer and all the summers to come."