Lone Peak Girls Camp
Reid Ranch received the following fun Thank You card: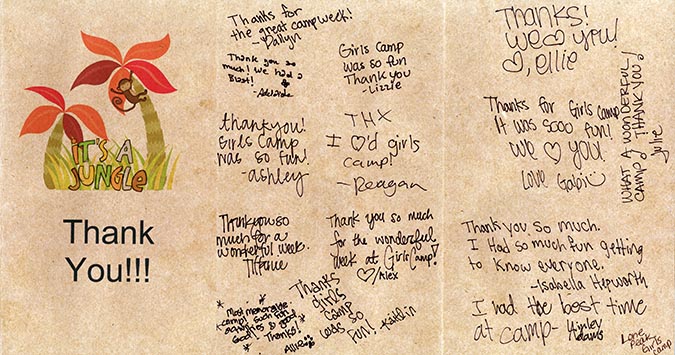 Cedar Hills 15th Young Women
"We had such a wonderful time staying at your ranch! The activities were so fun, the food was good and the staff was very friendly and helpful. Thanks for everything!"

Mike and Cindy Cosgrave
"Thank you, Reid Ranch for providing such a great experience for our family reunion. We loved it! Everything went so well. We loved the lodge, the activities, the food, the staff. There was something for everyone and it was a fun, safe environment for the children. We hope to do it again!"

Karen Fielding
"I would like to send my sincere thanks to you and your staff for all you did to make our girls camp a huge success! I would have to say that our ward's all-time favorite activity was horseback riding. The individual attention and professional way in which we were treated during each ride left a lasting impression on me and my young women. I had several young women who were terrified to ride a horse but came back again and again. I was so impressed with the kindness and helpfulness of every staff member I came in contact with. You truly have a superior group! My young women throughly enjoyed Reid Ranch and all the activities! Their only complaint was they wished we would have stayed longer. I will recommend your Ranch to the next young women president seeing that my turn will soon be done. Thanks again!"

Dick and Kathy Jeffs
"We would like to thank you and the Reid Ranch organization for providing a wonderful place for our Jeffs' Family Reunion held July 3-6. This was a delightful place to find togetherness for our children and their spouses and grandchildren and great-grandchild. The activities (pool, archery, horseback riding, miniature golf, boating, horseshoes, campfire, tennis, hiking) will long be remembered.
"The meals where excellent and carefully prepared with attention to detail. Our rooms received attention while we were eating our meals.
"The staff was so kind and considerate, this included those who cleaned the rooms, those who prepared our meals, those at the Trading Post, those who helped with the archery, boating and staffed the stores and those who helped with the horses. The cowboys and cowgirls and the head cowboy, who was so good with the children. An added bonus was being out of cell phone range."

Natalie Dalley
"Please give your staff at Reid Ranch a humongous THANK YOU from the Mountainville 2nd Ward Girls' Camp! We had a ball at your well kept, well run, beautiful ranch. The food was awesome. I have heard my daughters and their friends say more than once, 'I miss James, do you?' Also, the wranglers were fantastic. They reassured our timid riders and helped our frightened little gals get back on when they didn't want to. Last but not least, Brian, Spencer, Ryan and the rest of the staff were so helpful, on time, friendly and accommodating always. They also were good sports to endure some of our silly girls' crushes professionally. The lake and boats were a blast, the horses were fun, the conference center was a great bonus, the porta-potties were clean, the hikes were fun, etc. And, like I mentioned in the survey, I could hear the girls walking around all week saying, 'This is the best girls' camp ever!' Who can argue with the positive opinion of teenage girls? Thanks again!"

Jill Gillis
"The facility is amazing and really helps provide the background to an amazing adventure with our youth. The staff was very helpful and on hand for us to ask questions and meet requests. Thank you. And the food was amazing. Thanks James. A five start experience!"

Bill Maxfield
"Food was unexpectedly exceptional – best food ever at one of these facilities. Staff most helpful and courteous. They could not have been more helpful."

Andrea Hale
"This was a most memorable girls' camp. the lodge was so wonderful and the staff could not have been any better. Absolutely everyone was exceptional – a wonderful experience in every way! Thank you so very much. We hope our Bishop lets us come again."

Maegan Porter
"It is so beautiful up here! We are so grateful to have experienced this area. The staff members were great and fun to be around. They all have great personalities. Thank you so much for all that you did for us. We love you. We hope to come back soon. You're awesome!"

Jennifer Duffield
"We loved the horses. The cabin was so beautiful our girls didn't want to leave it!"

Janice Allison
"Staff was friendly, respectful and competent. Thank you for the incredible experience at Reid Ranch. I would highly recommend Reid Ranch to anyone!"

Kristine Peckham
"It was exponentially superior to any other experience I've ever had, like dang! It was stupendous."

Whitney Hawking
"The horses were great. My kids loved the ponies and the archery."

anonymous
"We had a wonderful time – thank you for everything. Really enjoyed the food. The chef was amazing – much better than expected. Amazing!"

Valerie Lux
"We came for our Young Women's camp. The girls loved the experience there were so many different activities there was something for everyone."

Courtney Kemp
"An unforgettable western adventure filled with lots of exciting adventures."

Virginia Reist
"The location of the ranch is BEAUTIFUL! The girls throughly enjoyed being able to horseback ride several times. Ryan and Haley were patient and friendly, and made us feel so welcome. All of your staff is happy and friendly."

Colleen Luck
"Thank you for an amazing visit. The staff is the best ever! I've traveled extensively and haven't had as much attention to detail and comfort in many 4 Star hotels! They deserve a raise! We especially appreciate Ryan and Haley and all they have done to make our stay exceptional! Thank you!"

Laurel Robertson
"Hands down, that was the best girls' camp we have ever had. The girls loved every minute enjoying all the activities and all commented on how good the food was. Your employees were so helpful and courteous. Haley in particular was extremely friendly and always there to answer any of our questions. We will strongly recommend your ranch to our friends. Thank you for everything and I look forward to your reply."